The hero of our story today is Dymka who is a cat found in Novosibirsk, Siberia.
She was completely frostbitten and brought to the local veterinarian for veterinary care.
The story of this inspiring cat is a testament to the indomitable spirit and resilience that animals possess, even in the face of extreme adversity.
Despite losing all four legs, her tail, and both ears, this extraordinary feline has managed to find happiness and a renewed sense of purpose in her life.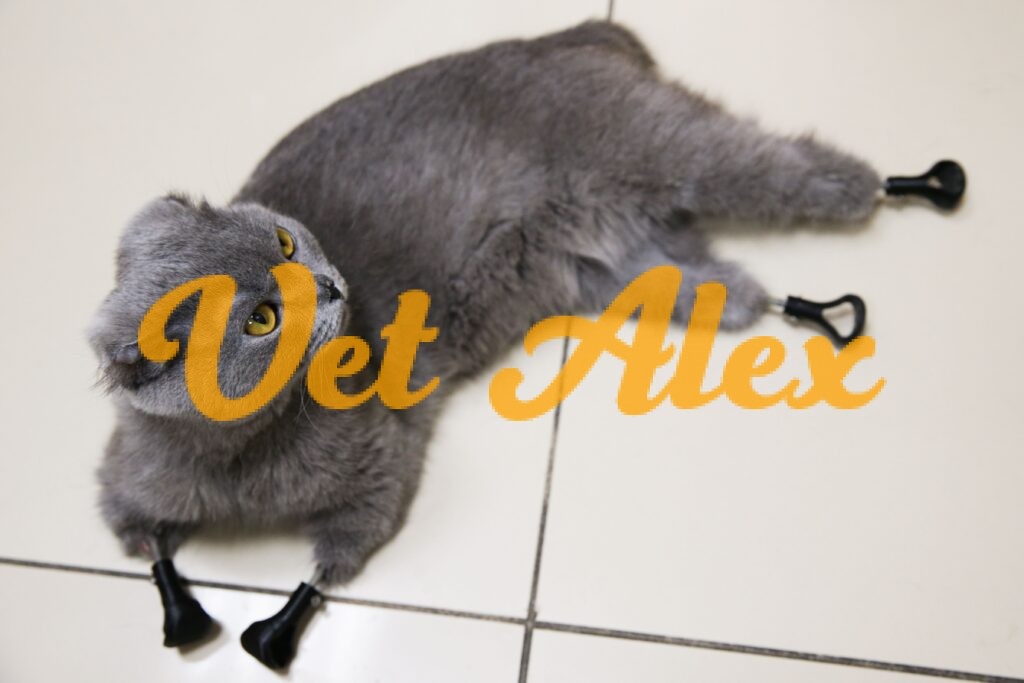 Dynka story.
This heartwarming tale reminds us of the power of resilience and adaptability in the face of adversity.
The journey of this cat exemplifies the incredible bond between humans and animals.
After enduring a series of tragic events resulting in the loss of her four limbs ears and tail, she was fortunate enough to find a compassionate and caring individual who saw past her physical disabilities.
A sad veterinary decision.
With love, dedication, and a commitment to her well-being, this individual provided her with a prosthetic device that enabled her to regain mobility and experience the world in a whole new way.
Despite facing unimaginable challenges, this cat has not only survived but thrived.
She serves as an inspiration to all, proving that happiness can be found even in the most challenging circumstances.
This story also highlights the importance of compassion and empathy towards animals. The care and support provided by her human companion demonstrate the transformative impact that love and understanding can have on the lives of animals in need.
It is a powerful reminder that every creature deserves a chance at a happy and fulfilling life, regardless of their physical limitations.
This tale inspires us to approach life's obstacles with courage, determination, and a positive outlook, just like this extraordinary feline.
Video.
A youtube channel posted a video about the Dymka's health state in the home .
Dymka, the courageous feline protagonist of this extraordinary tale, has captured the hearts of people worldwide with her resilience and determination.
Dymka's journey from a tragic accident to regaining her mobility through 3D-printed titanium paws is nothing short of inspiring.
The impact of the 3D-printed titanium paws on Dymka's life cannot be understated.
The prosthetics not only restored her ability to walk but also granted her the freedom to engage in normal feline behaviors.
In conclusion.
Dymka's journey from a tragic accident to regaining her mobility through 3D-printed titanium paws is a testament to the incredible resilience and indomitable spirit of animals.
Her story has not only revolutionized the field of veterinary medicine but has also served as a powerful reminder of the extraordinary bond between humans and animals.
Dymka's triumphant tale will continue to inspire and uplift both animal lovers and advocates of technological innovation for years to come.
reference: Stray Cat Who Lost All Four Legs and Her Tail to Frostbite Walks Again With 3D Printed Titanium Paws – laughingsquid.com/cat-walks-with-3d-printed-titanium-paws/ .